About Us

Central Georgia Cancer Care
Passion for Innovation, Compassion for your Care.
Since 1977, Central Georgia Cancer Care has provided high-quality, compassionate care to cancer and blood disorder patients in Central and South Georgia. CGCC is a member of the Georgia CORE Research Network, a statewide network of academic and community-based oncologists and researchers. Our physicians have laid the groundwork for healthcare advances through clinical trial participation, networking with research hospitals across the country—all to ensure every one of our patients gets the most innovative, effective care.
We are fully committed to delivering world-class care without requiring our patients to leave the comfort of their community.  We work closely with your community primary care doctors and specialists here and across the country to deliver seamless care, personalized for your health challenge. Central Georgia Cancer Care is proud to have received the Quality Oncology Practice Initiative (QOPI®) Certification and the American Society of Clinical Oncology's (ASCO) Patient-Centered Cancer Care Certification for high-quality cancer care in 2022. We are one of the first nine oncology practices in the country awarded this certification. Leading the way in Georgia, we are the only oncology center in the state with both QOPI® and ASCO accolades!
Our team specializes in the diagnosis and treatment of blood disorders and various forms of cancer. The practice consists of four physicians and advanced practitioners across two locations (Macon and Warner Robins). All our physicians are trained in state-of-the-art cancer-fighting technologies and participate in National Cancer Institute-sponsored clinical trials.
Central Georgia Cancer Care is one of the few Georgia oncology practices to be selected as an Oncology Care Model (OCM) practice, shaping cancer care for the future. To meet the demands of precision medicine, our lab offers one of the most comprehensive genomic testing programs in Georgia. Our board-certified physicians lead patient care, partnering with our advanced practitioners, nurses, patient navigators, patient account representatives and medical assistants to support the whole person's well-being, not only the diagnosis.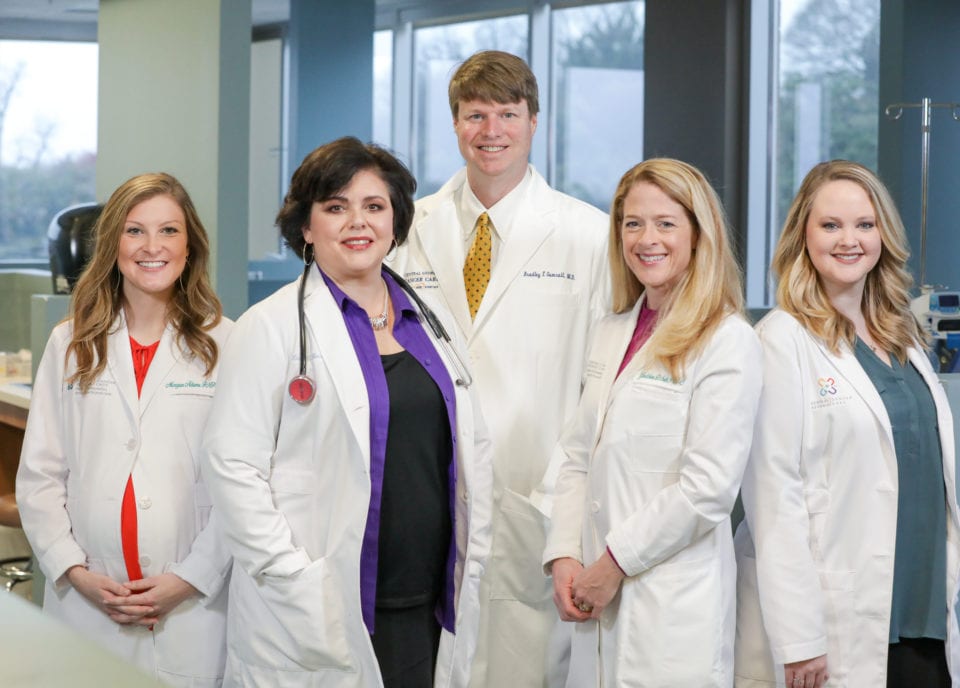 "

"With a diagnosis of cancer, your life changes. Your world is rocked and there's a lot of grieving that goes with it.  You need to explore all your options. We did and decided to follow up with Dr. Linda Hendricks as my oncologist. Dr. Hendricks was wonderful-she explained what we were facing, detailed the treatment options and assured us if she thought there was a better option for me, she would certainly let us know. I'm confident I got the best possible care." – Warner Robins patient