Medications for patients with cancer and blood disorders can be very complicated. Our licensed clinical pharmacists and pharmacy technicians specialize in precision medicines to ensure you receive the appropriate prescription, one which will not conflict with any other current medications.
The goals of the CGCC pharmacy are to deliver prescription accuracy, the highest standards of customer care, and a prompt turnaround for your prescriptions so you can pick them up while you're in the office. We offer full retail services; most patients have all their prescriptions, and those of family members, transferred to the CGCC pharmacy for convenience.
Understanding how and when to take your medications is very important in your treatment. We work closely with you to educate you on your medications, making sure all your questions are answered, especially about oral chemotherapy and immunotherapy drugs. If you have any additional questions, please call us right away.
For your convenience, Central Georgia Cancer Care offers a full-service retail pharmacy in each of the Macon and Warner Robins locations.
Many patients transfer all their families' prescriptions to the CGCC Pharmacy to reduce the risk of exposure from waiting in drug store lines. Our pharmacists will be happy to fill all prescriptions while you are seeing your care provider so you don't have to wait.
CGCC pharmacy hours are from 8:30 a.m. to 5:00 p.m., Monday – Friday. The phone numbers for the pharmacy are: 478.314.1667 in Macon; 478.287.6144 in Warner Robins.
If you should have an issue after hours, please call 478.743.7068 to reach a clinician.
We accept most insurance plans.
We take Visa, MasterCard, Discover, and American Express credit cards.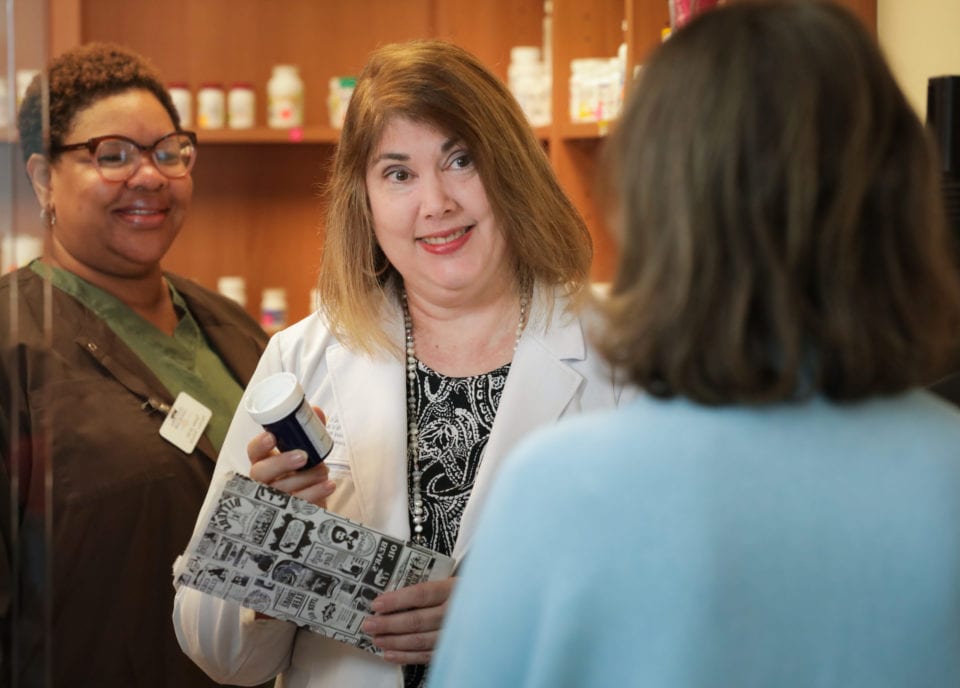 "

"I've been seeing Dr Moore since November, and he has been phenomenal.  I trust him and his team to make sure I'm taken care of. I hope I never have to recommend him or his team to anyone, but I would if the occasion ever came about. Thanks Dr. Moore!" – Macon patient